Get Back to Work with Poppin
We're here to help your team return safely and confidently to your post-COVID office with social distancing solutions.
SHOP ALL
Rapid Office Reconfiguration
See how our design team and space planning experts can quickly reconfigure your office for social distancing, employee safety, and CDC-recommended best practices before your team returns to work.
01.
Call to discuss your Rapid Office Reconfiguration and get a new floor plan same day!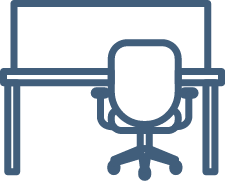 02.
Order any additional social distancing solutions and schedule your installation within days.
03.
We'll ship, install, and rearrange your existing furniture before your team returns to work.
Poppin's Back-to-Work Solutions
With CDC-recommended safety solutions, furniture designed for social distancing, and easy-clean office supplies for your office, we've got everything you need to return confidently to the office