Details
/Gray-%2B--Gray-Block-Party-Lounge-Sofa-102998+%3A+106196.html
Promotions
Product Actions
Our Block Party Lounge Sofa supports whichever work position works for you! Comfy enough for power naps or marathon work sessions, it's just the place for impromptu meetings or out of-the-box thinking. When used in conjunction with our other Block Party pieces, it offers endless arrangements for lunching, laptopping, and lounging.
Additional Information
Dimensions
Product: 72"L x 37"D x 28"H
Return Info
Check out our complete return policy
here
.
Warranty Info
The product has a limited lifetime warranty. Please check out the complete warranty policy
here
.
Shipping Info
White Glove installation is recommended. Learn More
Free Standard Ground Shipping on this item! White Glove installation is extra. As this item is oversized, additional shipping charges may apply.
The Sofa ships in 2 boxes with a total weight of 193 lbs.
1 Sofa Backrest Box: 73"L x 12"D x 14.75"H, 66 lbs.
1 Sofa Base Box: 73"L x 13.75"D x 38"H, 127 lbs.
Maintenance
We recommend annual professional upholstery cleaning for maximum long-term performance and best appearance. Spot-clean using an upholstery cleanser formulated for Polyester fabrics.
Block Party Lounge Sofa features effortless, tool-free assembly
Perfect for reception, lounge areas, and break-out spaces
Durable woven fabric stands up to holiday parties and hack-a-thons
Comfy construction of 5" polyurethane foam with three distinct layers provides a soft yet supportive cushion
Powder-coated steel legs pop in our signature Orange
The Block Party Lounge Collection has achieved Indoor Advantage Gold Certification
Meets or exceeds BIFMA's durability standards for office furniture
Weighs a sturdy 149 lbs
Designed by Poppin in NYC
Resources
Looking for more information? chat with a Furniture expert.
View our product downloads or
Ultimate Flexibility
Space-defining island shape allows for concurrent meetings and private work.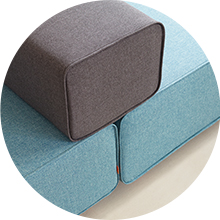 Comfort in Color
Mix + match for a curated look that coordinates with your branded space.
Get Un-Desked
Backrest doubles as a laptop surface, forming the ideal desk alternative.
Want to work even happier?
Explore our customer favorites.